At the dot of the mid night on 8th of November 2016 India lost its 86% of its monetary bases. We also appreciate Prime Minister of India for the step of Demonetisation. There are many reviews of this 'masterstroke', some of them are positive and some of them are negative. But amidst this major revolution, there are different underprivileged sections of the society like the Below poverty line, poor, farmers, rural generation etc. are still missing and they are badly suffering because of the reason of lack of money flow in the banks.
There is no doubt that our Prime Minister has pulled out a major coop and substantially enhanced his reputation as a strong leader. But there is a paradox, the paradox between the cash inflow and the means to ends. Small merchants, uneducated people, Small farmers, daily wage labor, work forces are paying the price for the major change in the economy.
Recently in Madhya Pradesh, Farmers are left with no other option than to sell their onions at government decided rates. Even after selling the crops they don't have enough in hand cash to operate their daily life. As they have received prices below expectation. The farmers who have already sold their crops are facing trouble post demonetisation in their bank accounts.
They have no clue about the use of ATM card apart from withdrawal from machines and the limits in banks over withdrawal is making it more tough. On the one hand where people are burning the old currency and contributing toward the increasing carbon-di-oxide in store. Small Farmers are deciding to leave their profession and join factories on daily wages as it would at least get their household running.
Example is Amar Singh from District Pilikara, Madhya Pradesh
In the month of October Amar Singh (An example of one farmer) sold his Amla crop at a very fair price compared to post demonetisation. He was collecting money for his wife's delivery as they were expecting a baby. But now he is left with a daily limit of Rs 2000. He has parents, wife and 2 kid to feed daily.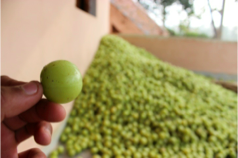 This guy has to make a run of about 20 km daily to the nearest ATM machine with approximately 2-2:30 hrs. of
wait in line for his daily expenditure. Even though he has a debit card but he has no idea about its online usage. His only source of income was to either sell the crops in Mandi (Market) or sell as a vendor. Post demonetisation he is not the only one who has decided to leave his profession, his friends also decided to join the nearest factories such as Vardhman textiles and Abhishek trident.
The most important question, arises is or how corporates can help such people in following ways under their CSR, mentioned below:
Just like Amar Singh and his friends there are many farmers in the country who are unaware of the coming era of digitalisation. Mission statement of CSR is Digital Awareness for the underprivileged and poor to promote easy implementation of demonetisation.
According to us organising a digital education camps in the villages and making them aware about the use of technology for the payment purposes would provide them easy access to the world with a faster connectivity.

Since people like Amar Singh are the smallest of the small in the society it will be a real challenge to educate them with e-banking methods.

Not only e-banking but also payment methods like Paytm, Mobikwick, Airtel money etc.

At the same time teaching them the use of email services, scanning of documents, and placing of orders over online portals could be taught.
So we suggest to Mr. Prime Minister, that kindly use CSR as a useful tool, and made it mandatory or suggest to the corporates to invest their small funds on such types activities, that will definitely increase the positive impact on Demonetisation. There is a lot more we can do with CSR, as its a promising organisation aimed at empowering the government in an effective manner.
According to the census year 2001 the literacy rate of India was 64.04% which became 74.40% in the year 2011 census with a growth of about 10%.If we compare the cashless policy of countries Belgium (93%), France (92%), Canada(90%) etc. INDIA STILL NEED ANOTHER 15 YEARS TO TOUCH SUCH FIGURES.
It is a great opportunity for corporate to use it under the CSR by providing education to offline community and raise an internet education among them.
India is one of the fastest growing economy in the world with agriculture being its first backbone even though the suicide rate of farmers is very high compared to the other parts of world. Performing a CSR is a duty but at the right time a good CSR is the requirement of the current scenario.
The suicide rate has ranged between 1.4 to 1.8 per 100,000 total population, over a 10-year period through 2005 and figures till the year 2015 have not been accounted yet.
The increase in population and rapid changes with digitalization have already started taking place and technology deficiency could be a reason for countless suicide cases.
Making India cashless require digitalization but teaching India how to use plastic money is the primary challenge. Corporates can take this situation and turn it into profits by helping the prime minister to reduce the initial effects of demonetization.
It is definitely a challenging task for corporate to teach unaware community about the internet usage but at the same time it's also not only the government's duty to do so.
#jnicsr #jnicstimes #nikhilkumarsarojaz #apurvraikwar