"The whole purpose of education is to turn mirrors into windows"

– Sydney J. Harris

 The function of education is to teach one to think intensively and to think critically. Intelligence plus character – that is the goal of true education

– Martin Luther King Jr

The only person who is educated is the one who has learned how to learn and change

– Carl Rogers

You educate a man; you educate a man ; you educate a woman; you educate a generation.

– Brigham Young
Indian education system has evolved as one of the world's largest and witnessing a paradigm shift strongly driven by economic and demographic changes. National education policies aims for economic well being and productive efficiencies which is further reflected with higher intellectual and professional capabilities of human beings. As the economy grows India will be third largest economy by 2020, with a target of increasing gross enrolment ratio to 30 percent in higher education. The country has more than 1.4 million schools and more than 36000 institutes for higher education. By 2020, India needs 40 million university places and 500 million skilled workers. The major shortcomings, that creates a deep gap in achieving the targets less access to education, poverty, poor health, social inequalities, deficits in wealth distribution, poor resource distribution and quality life that affects the society at large. To overcome these constrains the concept of Corporate Social Responsibility came into existence. There are hundreds of definitions of corporate social responsibility in respect to business lens, governance lens, social lens. As per Company law 2013, It is mandatory for companies to adopt a business – like approach and to create a strategic CSR framework, that leads to socio-economic development and curb environmental issues by promoting sustainable and scientific solutions, but where does these sustainable solutions come from? It comes from education in CSR, which lay seeds for better tomorrow and help fighting economic, social and environmental difficulties. The concept has evolved as a result of socio-economic deficits and provides a framework to survival and sustainability. Skilled CSR graduate plants the seed of better tomorrow, by thinking intensively innovative, welcoming and promoting social changes and evolve as productive leaders.
Role of corporate social responsibility is to bring change from social stigmas and stereotypes to scientific and progressive pathways to create a strong nation with no new evil emergence.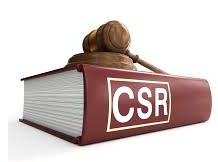 Government should take following initiatives : 
1* Promoting universities to integrate CSR in their mainstream programmes such as management courses, social sciences and environmental and by widening their offer of training programs in CSR and developing innovative partnerships with the public sector, private sector, government department and NGOs.
2 * By organizing CSR education initiatives as part of school curriculum for high school students, along with various personality, behavioural, communication and leadership development programmes.
3* By setting up various accessible CSR skill enhancement development centres across nation.
4* Voluntary participation of students in brainstorming workshops, conferences, conclaves and summits to channelize and modify thoughts of new fresh minds to develop skills to grow as productive citizens . 
5* Through online distance learning skill enhancement programme, awarding diploma in the CSR.
India has become the second largest market for e-learning after United States. The distance education market in India is expected to grow at a compound annual rate of 34 percent during 2015-16 to 2017-18. The aim of Government is to raise the ratio by 2020 will also boost the growth of distance education in India.
We at Jawaharlal Institute of Corporate Social Responsibility are adding our bit to the government's vision of increased higher education enrolment and promotion of CSR through our one year online distance learning skill enhancement diploma, adding boost to e-learning. CSR education is the mother of new society. At JNICSR, we enlighten and empower to current and budding professionals with knowledge, people and business skills to excel as leaders in socially responsible corporates. Our graduates are able to think progressively and contextually while integrating values, skills and acumen into better decision making process. With a minimal fees structure, we provide access to quality education in an evolving and mature field across populations and geographies. With our triple pillars Exploration, Equality and Excellence, we create skilled professionals to meet triple bottom line of corporates which is People, Planet and Profit. Teaching community development, socially responsible investment and CSR, in order to prepare students for employment. Sustainability and CSR are increasingly important for professionals to address in order to get the job they want in the organization they desire.
Thus, CSR skilled professionals creates a framework that covers social, cultural, ethical, environmental responsibility in addition to profitability. Companies add their contribution to education ecology by having direct focused programmes, thereby companies receive high visibility, make large impact and capitalize on the opportunity to really leverage their strengths and resources. Since the evolution of CSR & THE ACT, companies are engaged in various CSR education activities such as establishment of various integrated institutes for higher education, training programmes, vocational skill development programmes in rural area, teacher training programmes, promotion of girl child education, providing scholarship programmes for quality education in rural, supporting need based construction of hostels, classrooms, toilets etc under Swacch Vidyalaya Abhiyaan. For Indian corporates being involved in social activities related to education can bridge the gap between policy and effectiveness and also fulfill some of the corporate strategic objectives. Therefore more strategic minds are required to think in intensively innovative genre that leads to self-sustainability and equal development. The aftermath of social deficit and education in CSR has led to progress and evolution of CSR in education.