Food safety and quality control mini lab in Lucknow with modern technology and high precision testing instruments
The Akshaya Patra Foundation inaugurated its second Food Safety and Quality Control Lab (FSQC Lab) in Lucknow near Indane Bottling Plant, Amausi Industrial Area. The state-of-art minilab is equipped with the modern technology and high-precision testing instruments for evaluating the food products right from the farm to the plate.The FSQC Lab was inaugurated in the presence of Shri Alok Dhawan, Director, CSIR, Lucknow and Dr Mukul Das, Chief Scientist and Area Coordinator, IITR (CSIR) on 24 October, 2016
The state-of-the-art food testing laboratory services will help minimize potential hazards, protect consumer's health from unwanted food safety scares, and improve health and wellness by maintaining nutritional levels as per MDM guidelines. The food testing services cover multiple chemical, microbiological, physical, and sensory examinations (more than 60 parameters) to analyze and ensure the safety and quality of raw materials and finished products. The mini lab involves at every stage from the food supply chain to state-of-the art facilities to ensure compliance with international regulations governing issues such as chemical residues, pathogenic bacteria, allergens, additives, and nutritional content.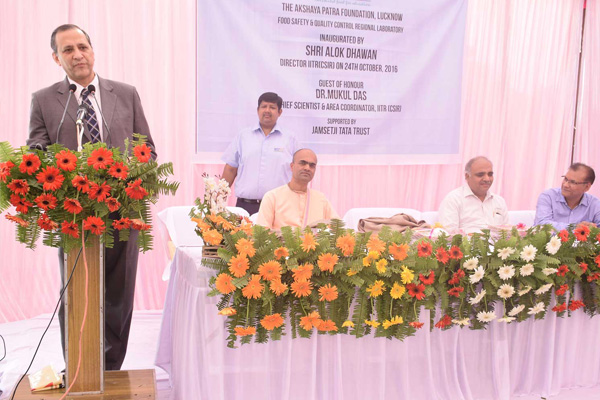 Mr Shridhar Venkat, CEO of The Akshaya Patra Foundation thanked the support extended by Tata Trustin setting up the second lab in Lucknow. He remarked that these initiatives will further strengthen the food safety and quality control practices and help us in serving healthy and nutritious food for children."
The Akshaya Patra Foundation's Lucknow Laboratory will cover 20 kitchens pan India and conduct more than 50 analyses per day. The first Food Safety and Quality Control Lab opened last year in Ahmedabad has completed 5,000 plus analysis of various raw materials and finished products.
About The Akshaya Patra Foundation: The Akshaya Patra Foundation is a not-for-profit organization headquartered in Bengaluru, India. The organization strives to fight issues like hunger and malnutrition in India. By implementing the Mid-Day Meal Scheme (MDMS) in Government schools and Government-aided schools, Akshaya Patra doesn't just aim to fight hunger but also to bring children to school.
Since 2000, The Akshaya Patra Foundation has worked towards reaching more children with wholesome food on every single school day. The organisation is continuously leveraging technology to cater to millions of children. Its state-of-the-art kitchens have become a subject of study and attract curious visitors from around the world. In partnership with the Government of India and various State Governments and the inestimable support from many philanthropic donors and well-wishers, Akshaya Patra has grown from humble beginnings serving just 1,500 school children across 5 schools. Today, Akshaya Patra Foundation is the world's largest (not-for-profit run) mid-day meal programme serving wholesome food to over 1.6 million children in 26 locations across 11 states in India.
jnicsr #jnicsrtimes #nikhilkumarsarojaz