The Guinness World Record holder Ishika Taneja adds another star to her glittering crown by winning the title MISS INDIA TOURISM 2017. She is no stranger to the world of beauty and glamour, being one of the most in-demand celebrity make-up expert in the country. Ishika will fly for Miss Tourism World this February to represent the country.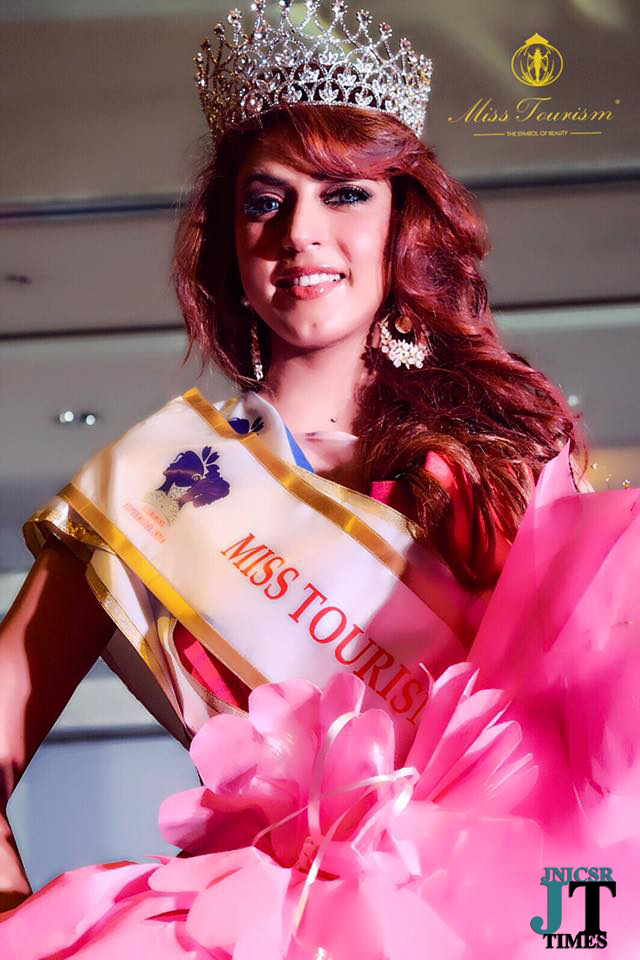 The splendid finale of the pageant was held recently at New Delhi. The gala final­e evening organised by Glamanand saw the gor­geous finalists donni­ng elaborate gowns an­d putting their best ­foot forward to win t­he coveted title. Over six thousand entries were received for the pageant, out of which only ten girls made it to the finale. Nikhil Anand, the Founder of Glamanand Group announced the winner and former Miss India Universe Nikita Anand crowned the winners. While Ishika Taneja won the pageant, Divyani Jain and Sonali Verma stood the runners up.
Ishika Taneja blew the competition out of the water with her unparalleled combination of beauty with brains. Her confidence and views were applauded by the judges and audience alike. Definitely, her vast experience in the world of beauty gave her an edge over other finalists and she nailed it with her vivacious personality and spirit.
The talented Ishika dominated throughout the competition, taking out the "Miss Popular" and "Beauty with Brain" categories. What really secured and sealed the title for her was her suggestion to capitalize on the country's vast wealth of historic monuments. " The revenue we would create by ticketing all monuments the way Italy and France will be phenomenal and by promoting tourism the country will create more jobs and shoot economic growth " she said.
This apart, her suggestion to develop India as a destination for 'Beauty and Wellness Tourism' and ideas of promoting it worldwide impressed the judges the most.
Ishika Taneja will be representing India on the prestigious platform of World Tourism pageant. The event will take place in February and she is leaving no stone unturned in preparing for the event. "I am proud to represent my country and training vigorously to get the crown home " she says.
Nikhil Anand who also owns Miss Teen International and several other international franchises like Miss Earth, Miss International, Miss Asia Pacific says " The competition was tough but it is going to be tougher at the world level but i am sure Ishika will come out with flying colours as she is a strong candidate beautifully representing India."
#jnicsr #jnicsrtimes #nikhilkumarsarojaz
www.jnicsr.com