The Indian advertising industry is huge, with a plethora of Indian and multi-national brands, advertising heavily across all platforms. Some popular brands include P&G, Hindustan UniLever, ITC, Dabur, Amul, Patanjali, Amway, Colgate, Pepsodent, Pepsi, Coca Cola, Nike, Puma etc. FMCG (Fast Moving Consumer Goods) companies like P&G, HUL, ITC, Britannia, Godrej, Calvin Klein, Himalaya, Wipro etc. are spending heavily on Print, Outdoor, and TV media in India. The Indian advertising industry is mainly classified into two categories i.e. online and offline. Digital marketing activities like e-Magazine, SEO, Social Media, Email, News & Finance Sites, Apps etc. come under online advertising. Offline marketing or advertising includes Print, Radio, TV, OOH, Exhibitions etc.
Advertising is growing at a considerable rate. Currently, India is the 14th largest Entertainment and Media (E&M) market in the world, contributing 1% of its GDP. The Indian E & M industry i.e. Television, Print, Radio and other media like OOH, Internet, Music, Gaming, is one of the fastest growing, followed by countries such as China, Russia, and Brazil. As per industry estimates, the Indian E&M industry, with revenues of about ₹ 80,500 crores in 2011, has been growing robustly over the last few years on the back of steady macroeconomic growth, rising spending power and positive demographic indicators. The industry revenues are expected to reach ₹ 176,400 crores by end of 2016. The advertising spend in the industry was estimated at ₹27,900 crores in 2011, contributing 35% of total E&M revenues. The revenue from advertising expected to grow at a CAGR of 13.4% to reach ₹ 52,500 crores in 2016. Television and print dominate the advertising segment in India with 85% share of advertisement revenue and are expected to remain the primary contributors, accounting for 84% of the total advertising revenues in 2016.
Let's have a look at Advertising Media Channels (Industry-wise) Spend: Source: KPMG Analysis in India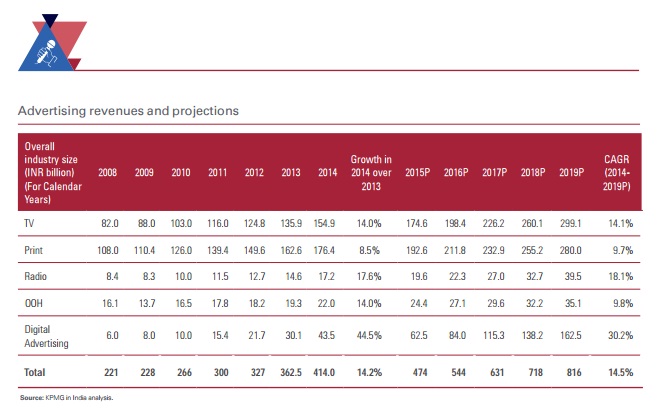 Digital advertising is getting very popular and many brands spend heavily on the digital media. The growth of digital advertising is outstanding in India and existing spends on digital media which is around 4.5%, is expected to grow 20% by 2019.
Digital advertising on mobile devices will also grow in the future and may reach 3% of the total media spend, as penetration of smartphones in India is increasing at a fast rate. Smartphones are also getting popular in rural India due to low budget Smartphone manufactured by brands like Micromax, Lava, Xiaomi, LeTV, Yunicorn etc.
Let's take a look at expected Digital spends in the future: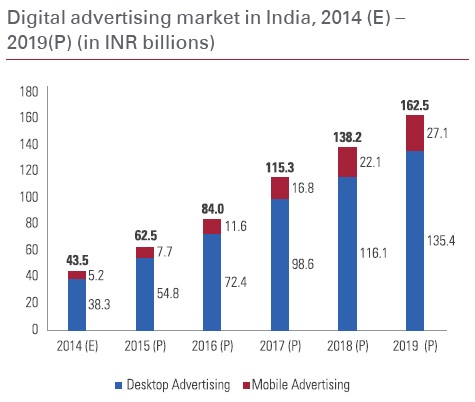 Source: KPMG Analysis in India
Industry-Wise Digital Spend (2013-2014)

Let's see how Print, TV and Digital Spend fare in the future: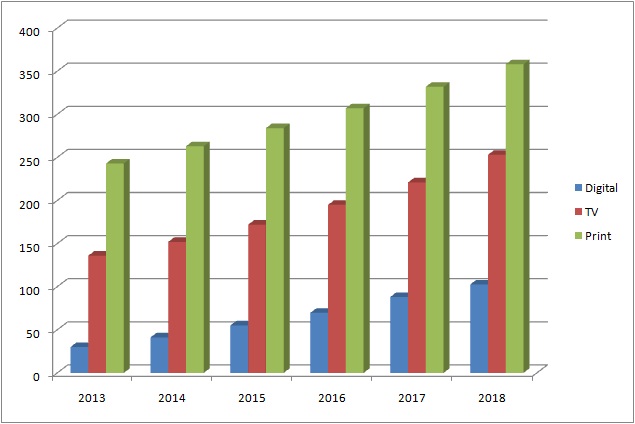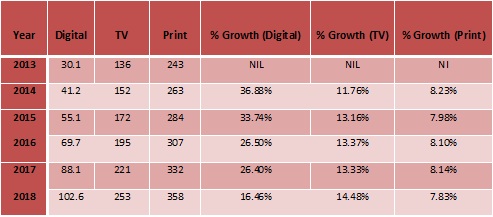 Digital Advertising will grow by 47.20% (2016 to 2018)

TV Advertising will grow by 29.74% (2016 to 2018)

Print Advertising will grow by 16.61% (2016 to 2018)

The above ad spend proves that Digital advertising will grow at the fastest rate and should this rate continue, it will match the advertising figures of Print and TV  by 2025.
Conclusion: Digital advertising is growing at the fastest rate compared to the other media. Digital marketing is also the most effective and efficient advertising where users can be targeted based on their age group, interest, location, mobile devices etc. Mobile advertising, which is a part of digital advertising, is growing at a phenomenal pace, as penetration of smartphones is growing rapidly, in urban as well as rural India. The Indian government is also ensuring that all government work is driven digitally under digital platforms, by running Digital India campaign and endeavouring to bring the internet to all rural areas.
Courtesy: Mehul Bavishi & KPMG
jnicsr #jnicsrtimes #nikhilkumarsarojaz