The corporate world is very complex. There is cut throat competition. The market trend has its own dynamics. The corporates have to struggle throughout to create a space for themselves. Survival is the biggest challenge. By Dr Shashi Rai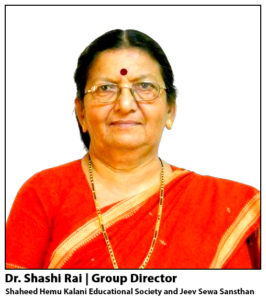 Dr. Shashi Rai is renowned Educationist with experience of about 51 years in the field of Higher Education as well as School Education. Worked as Professor of Botany and then Principal in Government Colleges of Bhopal, specially Sarojini Naidu Govt. Girls PG College, Bhopal. Retired in 2006 from active government service and Nominated as Member, University Grants Commission, New Delhi by Ministry of Human Resource Development, Govt. of India. Specialization in teaching, research, educational administration and management, policy planning and empowerment of women. Awarded State level awards for excellence in education.
At present working as Group Director, Shaheed Hemu Kalani Educational Society and Jeev Sewa Sansthan, Bhopal for last 10 years.
Sant Hirdaramji Sahib was a legendary Saint, who dedicated his life for the betterment of Society. He was instrumental in inspiring people to donate for charitable activities. His staunch followers are the philanthropists all over the world who have donated generously to create valuable assets in the field of health and education at Bairagarh, Bhopal which is renamed as Sant Hirdaram Nagar, Bhopal to acknowledge his contribution.
Jeev Sewa Sansthan is the apex body, which coordinates and controls 25 different types of charitable activities under the patronage of Sant Hirdaram Sahibji. Santji lived a long life of 100 years and is remembered by those who are benefitted as well as by those who have seen the magnanimous growth of an area of Bhopal, which was deprived of all facilities a few years ago. His staunch follower Shri Hotachand Dhanwani popularly addressed as Siddh Bhauji is head of all the institutions and is the motivator, guide of this group. Hundreds of volunteers give their valuable services to see that all the programs and schemes run the way they are expected to be.
What do you know about India CSR Act. 2013?
I have read the Act and I know about the objectives and intention behind promulgation of such Act.
What is the biggest weakness of Indian corporation in CSR?
Like any other Act in our country CSR also suffers from poor adherence and weak monitoring.
Do you think that for a good CSR, a corporate needs to have proper education in the same domain?
Without knowing the objective and understanding the philosophy of Act, no corporate can translate the Act into action. Vigorous training and education is required.
Do you think that CSR act should be applicable to the whole world for the better placement of the society?
Every corporate should feel obliged to undertake the social responsibility and to contribute for society. Without repaying to the society the survival of corporates will be only one way and the social ethos will be lost. I feel it should be globally accepted. It is more relevant in developing nations as many of the social needs do not get proper response from the government due to paucity of resources. Corporates can help by pooling resources and becoming socially accountable.
What are the challenges Indian corporates are facing nowadays?
The corporate world is very complex. There is cut throat competition. The market trend has its own dynamics. The corporates have to struggle throughout to create a space for themselves. Survival is the biggest challenge.
How corporate can resolve the problem of the underprivileged and the poor's?
The corporates will have to keep their social network vibrant and positive. They should keep their vision open for under privileged and the poor. They should be able to identify the needs and then plan a strategy to benefit larger group. Their charity & social responsibility should be towards masses.
How Sant Hirdaram Foundation put CSR and Sustainability into Action?
The Trusts and Societies under the banner of Sant Hirdaram Sahibji are totally involved in their social responsibilities as they work for those who are poor weak and need the help the most. Establishing hospitals, schools and colleges, promoting education of deprived children, giving free medical service to the poor and creating assets for future generation are the glimpses of their benevolent activities. While doing so they are aware of the sustainability factor and appropriate strategies are planned to make the whole activity tuned with the society and nature.
Any suggestions for the Indian corporate CSR leaders?
The Indian corporate world should understand that country comes first and personal gains are only the by product. Being a social creature, man is always supposed to discharge his social responsibilities. Corporates are competent to discharge their duties towards social sector. They should do it as their primary duty.
Interview By : Nikhil Bhai Kumar Sarojaz | Editor-in-Chief